PeRL STUDIES AUTONOMOUS NAVIGATION & MAPPING FOR MOBILE ROBOTS IN A PRIORI UNKNOWN ENVIRONMENTS.
NEEC
PeRL is leading a new Unmanned Systems Testbed as part of the new Naval Engineering Education Center (NEEC).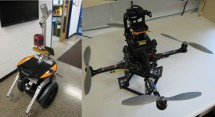 Read more on our projects page.

Automated Hull Inspection
PeRL is working on a ship hull analysis project with the goal of automating ship hull inspection for the US Navy using an AUV.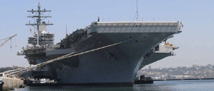 Read more on our projects page.
RMS Titanic Redux
Ongoing research towards the SLAM problem (Simultaneous Localization And Mapping) has helped to map the wreck of the RMS Titanic.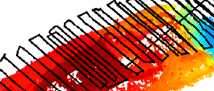 Read more on our projects page.


The Perceptual Robotics Laboratory (PeRL) at the University of Michigan studies problems related to autonomous navigation and mapping for mobile robots in a priori unknown environments with a directed focus on computer vision techniques for perceptual sensing. More...
What's New
GLC Code Available The code implementing our generic linear constraint node removal method can be downloaded here.
Underwater Hull Inspection Demo on the USS Saratoga (CV-60) In Aug 2013, we successfully demonstrated multi-session visual SLAM for in-water hull inspection. Check out the video...
Upcoming papers at IROS'13 The lab has two papers appearing at IROS this year. One on long-term SLAM using GLC factors and the other on piecewise planar surface models for underwater SLAM. Congrats to Nick Carlevaris-Bianco and Paul Ozog on their accepted papers!
Targetless Lidar-Camera Calibration Paper and Code The paper and code for the AAAI-12 paper entitled "Automatic targetless extrinsic calibration of a 3d lidar and camera by maximizing mutual information" can be downloaded here.
Ford Campus Lidar and Vision Data Set The lab has released a new public dataset of co-registered 3D-lidar and omnidirectional camera imagery collected from an IMU-instrumented automotive platform. The dataset is released as an IJRR data paper: Ford Campus Vision and Lidar Data Set. The dataset can be found on our Downloads link here.
Photo Gallery
Here are some pictures from current projects and past research expeditions!